Investors can own virtual pieces of land in Shiba Inu's upcoming Metaverse tentatively titled 'Shiberse'. SHIB is expanding its ecosystem at a rapid pace allowing investors to own properties in the virtual world. Shiberse gives LEASH token holders priority in bidding for lands in the doggy-themed Metaverse and the others can stake claim only when the queue system opens.
Since the announcement, LEASH has risen +53.8% in 30-days making it the most sought-after token in the SHIB ecosystem. Shiba Inu holders are mostly investing in LEASH to take advantage of the upcoming Shiberse virtual property sale.
However, it is unclear what the rates of the properties in the virtual lands would be and murmurs on social media claim that investors can buy '1 piece of land with 1 LEASH'.
During a Q&A session with the SHIB team on Discord yesterday, SemperSage said, "Speaking of, people are speculating cost is 1 Leash for 1 land. I hope it is not that expensive."
The developer of Shiberse, Penny confirmed that's not the case and replied with, "Nope".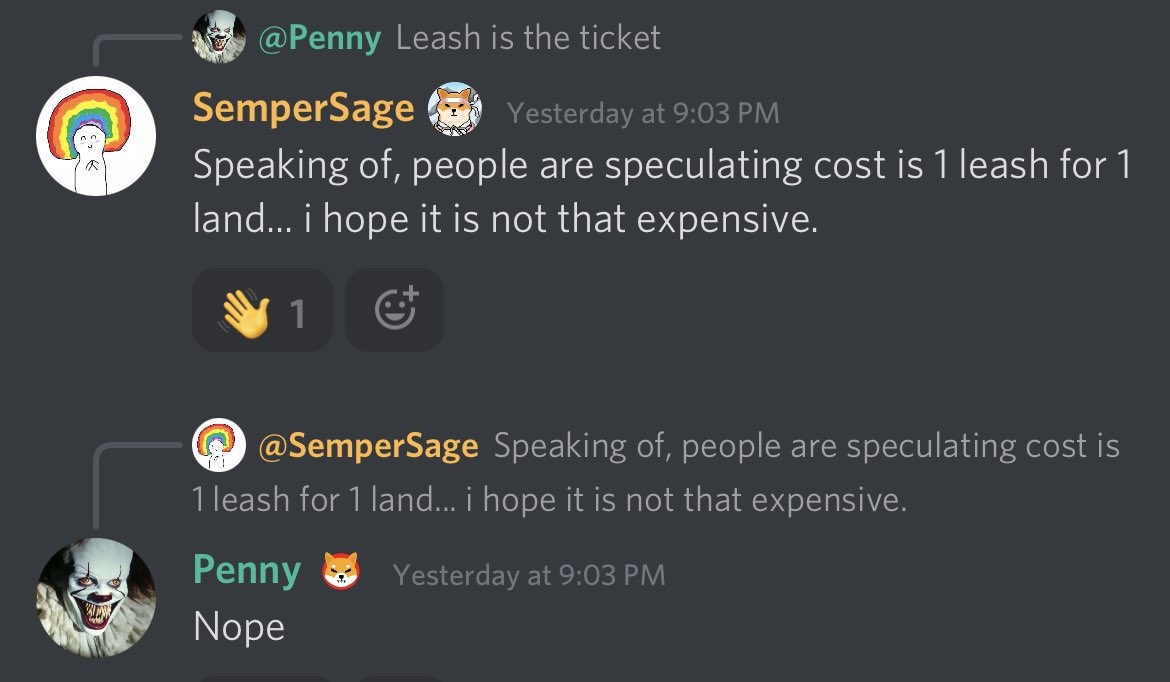 He confirmed that Leash is the ticket to own lands in Shiberse but will not constitute '1 Leash for 1 land'. The entire roadmap and pricing to own properties in Shiberse will be announced when the release dates are near. Until then, it is advised to not fall for social media hearsay and wait for official announcements from the team.
At press time, Leash is trading at $1,151 and is up +1.1% in the 24-hours day trade. It had reached an all-time high of $4,528 in June 2021 but is now down -74.5% from its ATH.
Also, looking at how important Leash is to the SHIB ecosystem, its price could claw back to its previous glory.
Shiba Inu: Shiberse, Leash and Bidding Process
The SHIB blog confirms that the team has developed an anti-dump system to protect Leash holders from fraudsters.
"This queue allows exclusivity by requiring interested parties to hold "$LEASH". Which gives priority and exclusive access to this first selling phase of the land plots in our Metaverse. In addition to the queue, we also have worked on an anti-dump system in order to protect $LEASH holders. The remaining lands will then unlock, and become available for the public after this exclusive selling process finalizes."
"Owning a piece of Shiba Real Estate will bring an array of benefits! We are not stopping, this is just the beginning." However, the blog did not specify what the benefits could be.