Although Bitcoin corrections have been tied to buying euphoria amongst traders over the past, the king coin could buck the trend this time around as it challenges the $45K price ceiling.
Historically, Bitcoin prices tend to reverse from a local top once crowd sentiment is excessively bullish. The same was highlighted in a Santiment chart, which showed that social dominance, at times, can be inversely correlated with Bitcoin's price. Social dominance calculates how much a particular asset is talked about during hyped moments. While a rising social dominance is good for growth, unusual spikes can create FUD among market participants.
Macro Outlook – Bullish?
While the abovementioned point does establish precedence for a correction, the general health of Bitcoin's market suggests otherwise.
For instance, Bitcoin Spent Output Profit Ratio (SOPR) has been rejected below 1 multiple times during March thus far – a reading which is typically observed when bulls are dictating the market price. SOPR helps measure the profit or loss of every single transaction that is made in the market. A reading above 1 indicates that coins moved within a certain timeframe were on average, selling at profit.
Additionally, the Estimated Leverage Ratio is currently at an all-time high, implying that traders were playing with higher leverages. Higher leverage, in turn, suggests that traders were confident about their positions and were willing to take more risks. However, rising ELR is not necessarily bullish. The ELR is calculated through an exchange's open interest divided by their coins reserve. It simply implies how much leverage is used by users on average.
Bitcoin Daily Chart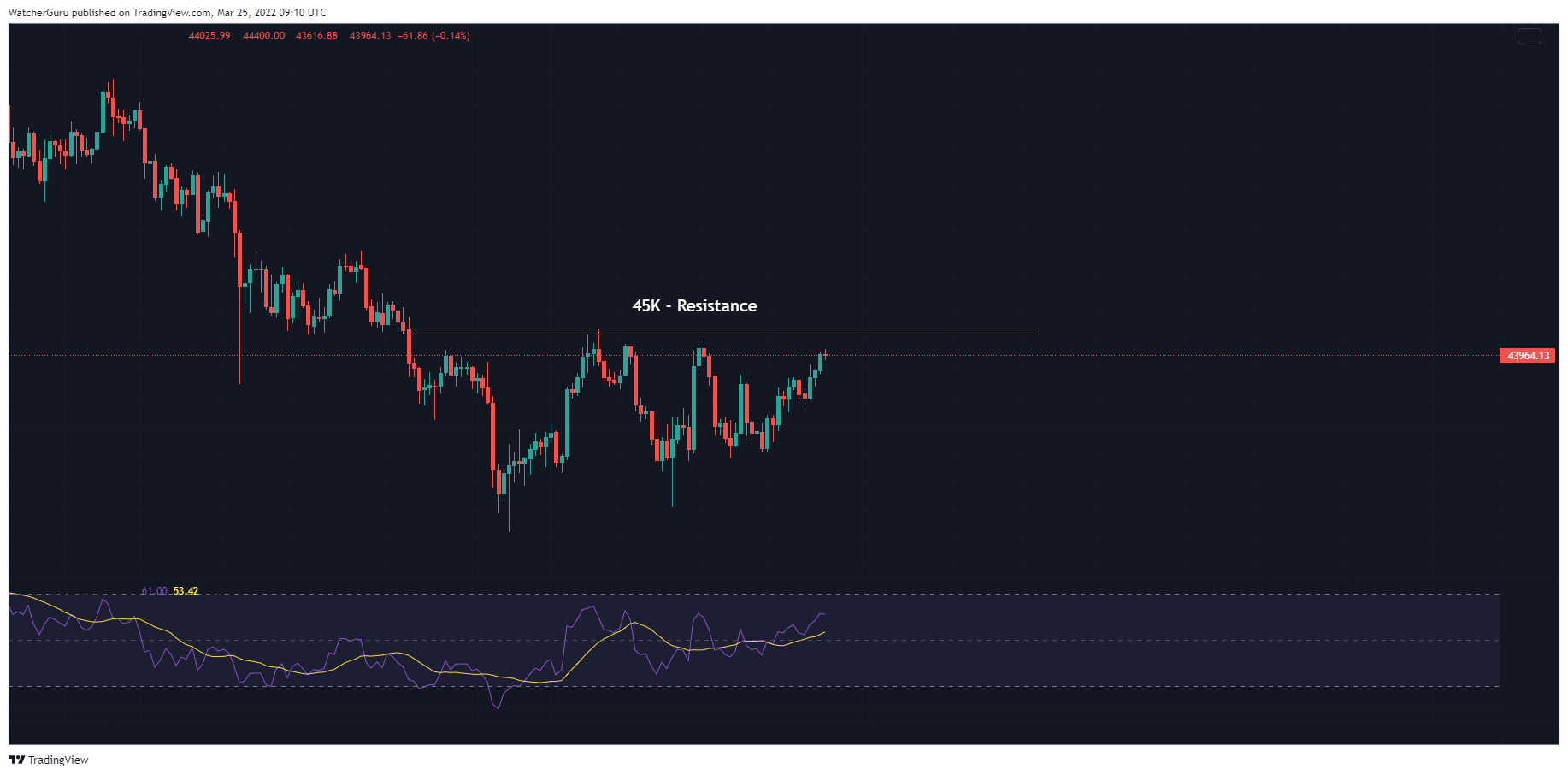 So what do these factors entail for Bitcoin's price? The digital asset is closing in on $45K resistance and $48K is the next significant area on the chart. Based on the macro outlook, an extension to $48K is certainly a possibility despite the buying euphoria present at this state.
However, it's critical for BTC to hold ground above $42-$44K support over the next 24-48 hours to realize this outcome. If the king coin does slip below its immediate support zone, FUD could come into play and threaten a deeper market correction.