VeChain's price has rallied by 20% over the past day and 50% over the past week. If zoomed out a little more, this alt's appreciation figure from 13 March's $0.04404 low summed up to 85.87%. Barring a couple of red candles, VET's price chart was characterized by green candles of varying lengths in the said period.
As a result, VeChain flipped a couple of tokens like AXS on the ranking board and stood at #33, with an inflated market cap of $5 billion, at the time of press.
VeChain's price rise has got the community members talking. On social media, VET-centric chitter chatter has witnessed a substantial rise lately. One of the most recent spikes witnessed on its social volume chart was at a multi-month high, for it had surpassed the levels noted in late November last year.
More often than not, rising community interest has coincided with asset prices rallying. Thus, it'd be interesting to see if VET follows the convention and continues rallying.

A sneak-peek into VeChain's daily chart
On the price chart, things seemingly looked bullish for the token. Over the past day, it already established the 23.6% Fibonacci level as a support and had gone on to achieve a high of $0.08161 in the day's trade.
From its current price of $0.7967, VET has the room glide up by another 20% to $0.09641, before it is tested again. The said price point would coincide with the 38.2% Fibonacci level that acted as a roadblock and rejected VET a couple of times in the period between late December and early January.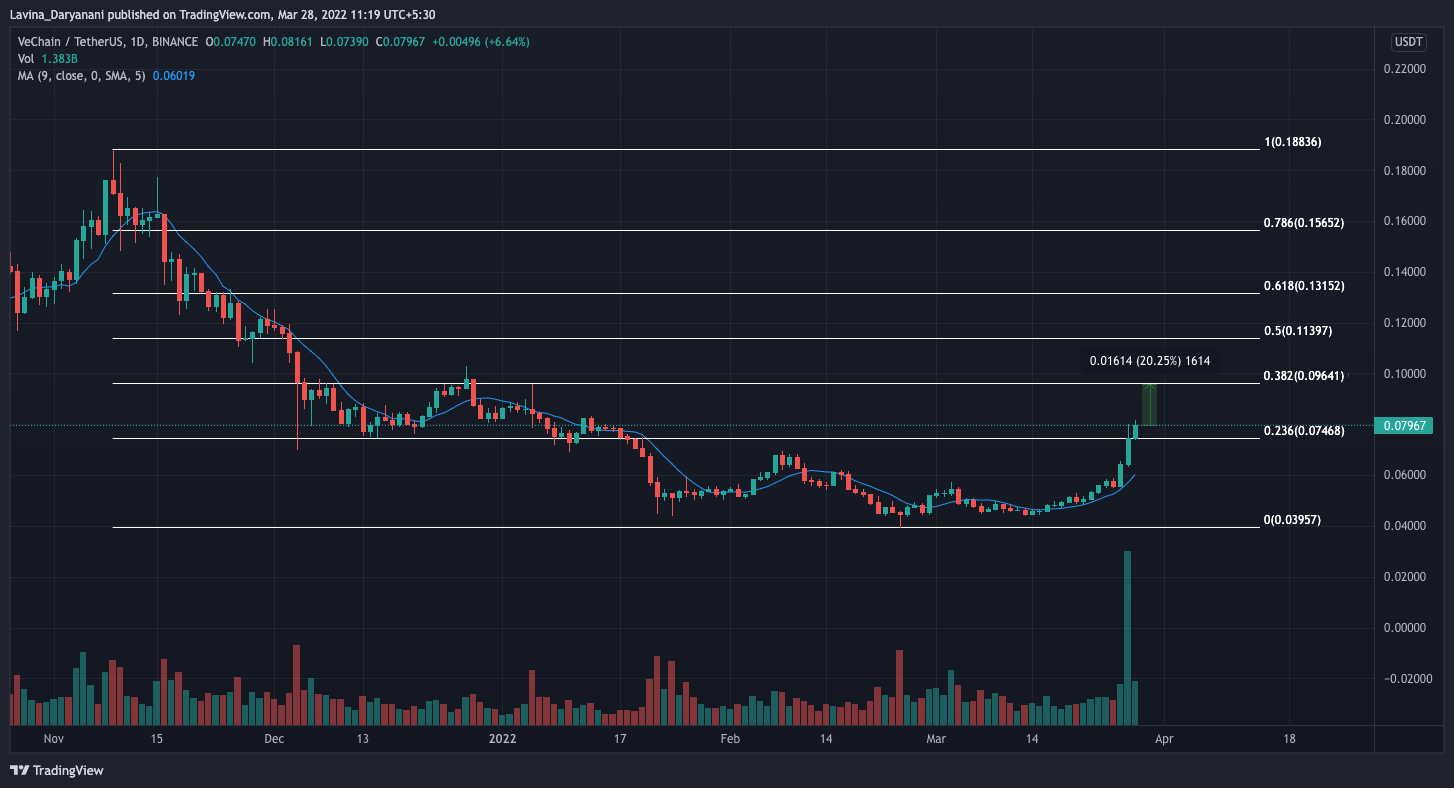 On the flip side, if VET HODLers end up booking profits and gradually start stepping out of the market, the bullish thesis would get dented. In such a case, the token's simple moving average—which currently stands at $0.06019—could rescue VeChain. Thereon, if the sell-bias gets even more intense, then the price range around $0.048 could potentially rescue the alt.