BTC climbed most of yesterday. The Bitcoin price rose 2% and held those gains throughout the day. The largest cryptocurrency by market capitalization remains above $24,000. At press time, BTC is changing hands at $23,953.
BTC/USD 4-hour chart | Source: TradingView
Bitcoin Price Rises but Ether Outpaces as Merge Nears
Bitcoin, the largest crypto by market cap, was recently trading at roughly $23,800, down slightly from the previous day but still near the upper end of the roughly $19,000 to $24,000 range it's occupied since June. Crypto investors have responded favorably to the latest economic indicators suggesting that the worst of inflation is behind us and the global economy may not plummet into a steep recession.
Long-term Holders Are Accumulating

"If you are patient enough, you will probably be rewarded in the future."
by @GrizzlyBTClover

Read More👇https://t.co/g61HCtn5p0

— CryptoQuant.com (@cryptoquant_com) August 11, 2022
Ether climbed faster. The second-largest cryptocurrency by market capitalization continued a two-month surge to crack $1,900 for the first time since late May. Ether was recently trading at about $1,850, about flat over the previous 24 hours as investors continued an early celebration of the Merge, which will shift the Ethereum protocol from a proof-of-work to a less energy-sapping, more environmentally friendly proof-of-stake protocol. The token price has jumped more than 85% since dipping below $1,000 in mid-June. Developers completed the third and final test environment network (testnet) merge. The mainnet Merge is expected to occur sometime at the end of September.
"Uniswap and Maker are two of many altcoins seeing many more $100k+ transactions than usual on their respective networks. We have been seeing some price reversals ever since these spikes, but watch to see whether this activity is just temporary", Santiment added.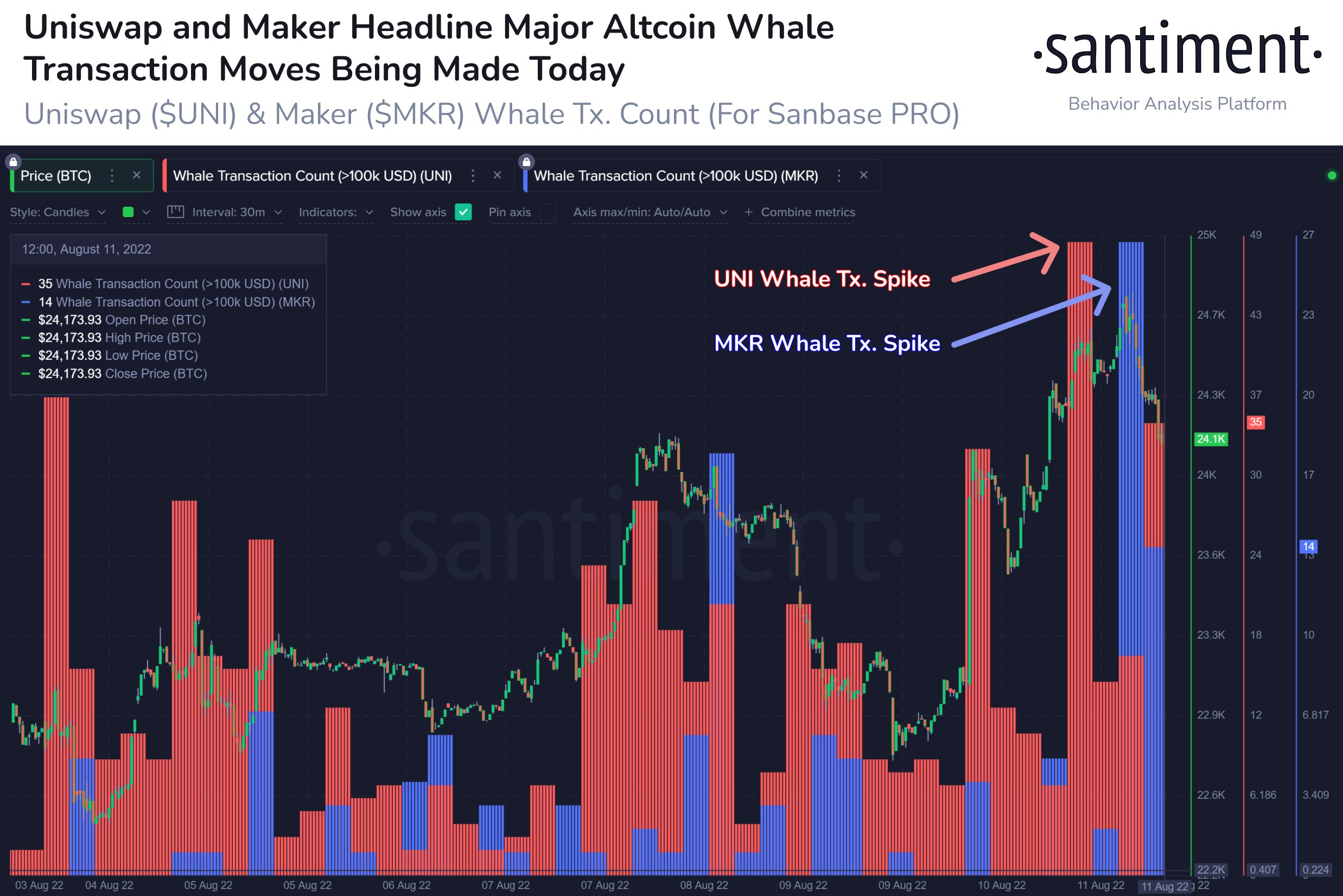 Protocols that stack on top of each other, such that a dollar could be counted several times" on top of a Solana stablecoin exchange called Saber. They used 11 aliases in their scheme. At its peak, their double-counting protocols amounted to $7.5 billion in total value locked (TVL) at a time when the TVL of Solana was $10.5 billion. One has to wonder how much of the Solana Summer – last year's meteoric rise of the protocol – was actually authentic or artificial.
But the market doesn't seem to care. A good proportion of Solana's TVL was effectively a blockchain version of a Russian nesting doll, Solana's token is up. SOL is up 15% over the last week and was most recently trading at about $43.
All this comes as the Solana TVL – the actual TVL – has decreased significantly. Right now, Solana's TVL is $1.94 billion while its double-counted TVL is $2.48 billion. As the year began, on Jan. 1, its double-counted TVL was $11.2 billion while its actual TVL was $8.1 billion.
The overall cryptocurrency market cap stands at $1,144 trillion, and Bitcoin's dominance rate is 40.1%.
Read more:
Join us on Telegram
Follow us on Facebook