Bitcoin price fell below $19,000 after briefly moving above that resistance level overnight as investors digested the U.S. Federal Reserve's decision to raise interest rates by 75 basis points, or in line with expectations. At the time of writing, BTC is changing hands at $18,515.
BTC/USD 4-hour chart | Source: TradingView
Bitcoin price falls below $19,000, Ether slumps, XRP drops on lawsuit delay
The Fed decreed, and crypto markets scrambled, sending assets higher in the initial hours following the U.S. central bank's latest, hefty interest rate hike and spiraling. Bitcoin was recently trading at about $18,500, a more than 2% decline over the past 24 hours. However, the largest cryptocurrency by market capitalization dipped well below $18,400 at one point Monday (UTC), its lowest level since early June. A year ago, BTC's price exceeded its current level.
All the top 10 cryptocurrencies by market capitalization lost ground, with Ether the biggest loser. Ether was recently changing hands at roughly $1,250, a roughly 5.5% drop from the previous day. The price of the second largest crypto in market value has been tumbling in the aftermath of last week's Merge, the landmark technological overhaul of the Ethereum network, as investors prioritize its potential, longer-term benefits over immediate price impact. Investors will soon be eyeing next year's Ethereum's "Shanghai" upgrade, allowing users to withdraw staked ETH.
"Bitcoin's price has hit a 3-month low. According to our sentiment data, negative comments surged to month highs. Shorting on exchanges has at least halted the bleeding. BTC social dominance has also spiked, which is historically a good bottom signal", Santiment reported.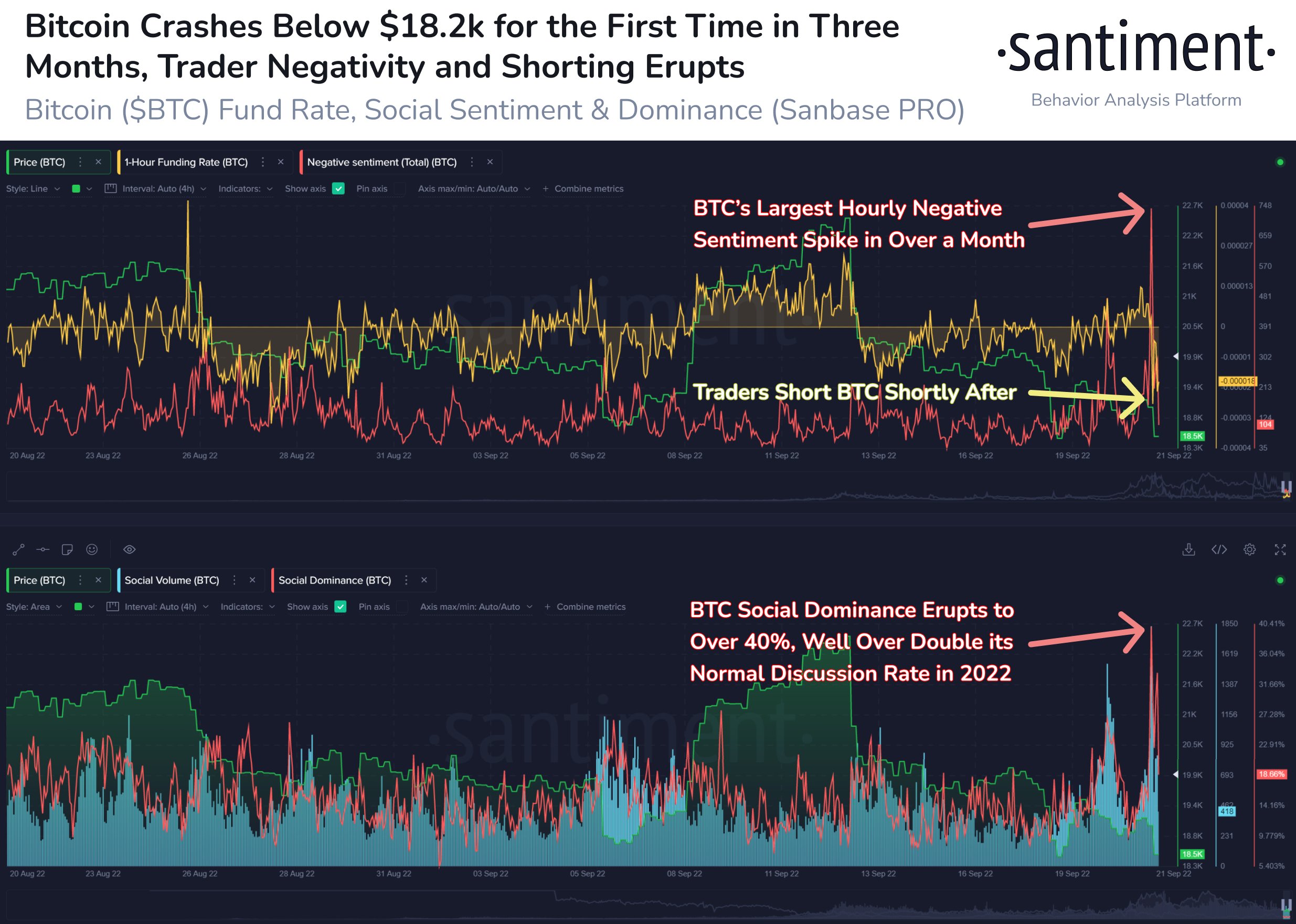 Other cryptos followed a similar price pattern, rising immediately after the rating announcement before plummeting, with EOS recently dropping more than 10%, and YGG and ADA were down over 4%. XRP fell 4.5% to $0.39 after the token's issuer, Ripple Labs Inc., objected to the U.S. Securities and Exchange Commission statement saying it may seek additional time for concerned parties to submit further documentation in its lawsuit against Ripple. XRP had gained 14.7% over the past seven days as both parties sought a summary judgment that would end the lawsuit in December 2020, with the SEC alleging Ripple sold $1.38 billion worth of unregistered securities.
The overall cryptocurrency market cap stands at $899 trillion, and Bitcoin's dominance rate is 39.3%.
Read more:
Join us on Telegram
Follow us on Facebook