Bitcoin, the largest cryptocurrency by market capitalization, Ether, and most other major altcoins sank more gently, offering the latest counterpoint in an ongoing debate whether digital assets will continue to correlate with equities, particularly from the tech sector. BTC recently traded over $19,400, roughly where it stood 24 hours earlier after recovering from an early morning plunge. At the time of writing, the Bitcoin price is changing hands at $19,494.
BTC/USD 4-hour chart | Source: TradingView
Bitcoin Price Takes a Morning Dip Before Rising
Bitcoin and ether declined Wednesday as economic data confirmed that the U.S. has technically entered a recession. BTC price recently fell 0.06% on moderate volume following Wednesday's 1.8% increase. Prices fell sharply during the noon UTC (8 a.m. ET) and 13:00 UTC (9 a.m. ET) time frames, coinciding with the announcement the U.S. economy contracted by 0.6% in the second quarter. Subsequent hours saw BTC regain ground.
"Bitcoin has stuck around $19.4k and Ethereum at $1,340 today. But the story is that they are doing so without the support of the S&P 500, which is down -2.4%. If the correlation is easing between crypto & equities, this is very encouraging", Santiment added.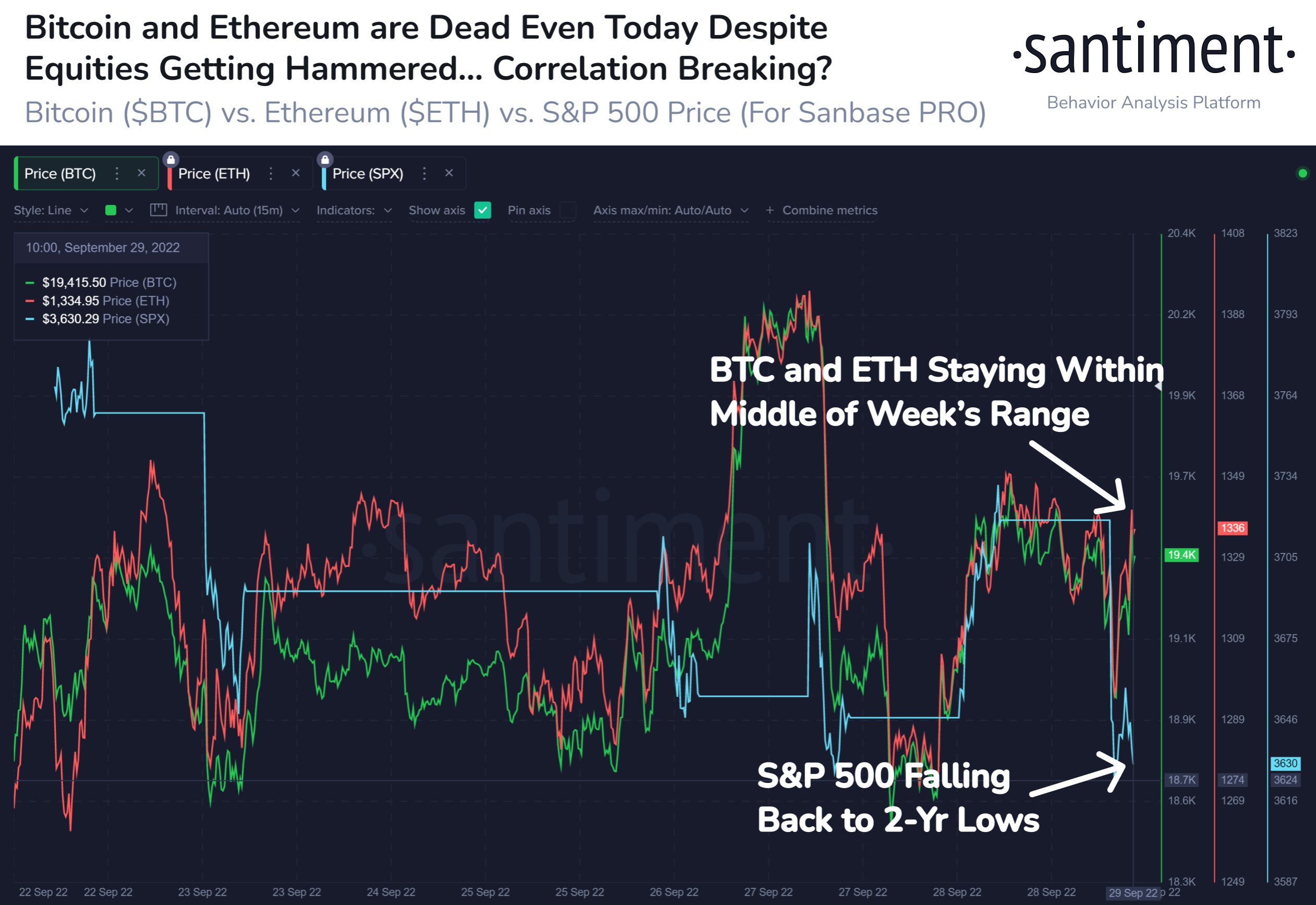 Ether price recently declined 0.28%. Its trading behavior was similar to BTC, selling off in early U.S. trading hours before reversing course slightly. The second-largest cryptocurrency by market capitalization has declined in volatility as its average true range (ATR) has contracted 13% over the last seven days. ATR reflects volatility by measuring the spread between an asset's high, low, and closing prices.
ETHW, the forked version of Ethereum that retains the blockchain's original proof-of-work (PoW) underpinnings, initially stumbled. But mining support from Binance customers could, in theory help.
"FTXToken has just seen its largest amount of dormant token movement of all time. On September 28th, from 11 am to 12 pm UTC, the age consumed (amount of tokens multiplied by age those tokens sat dormant) hit over 200B", Santiment reported.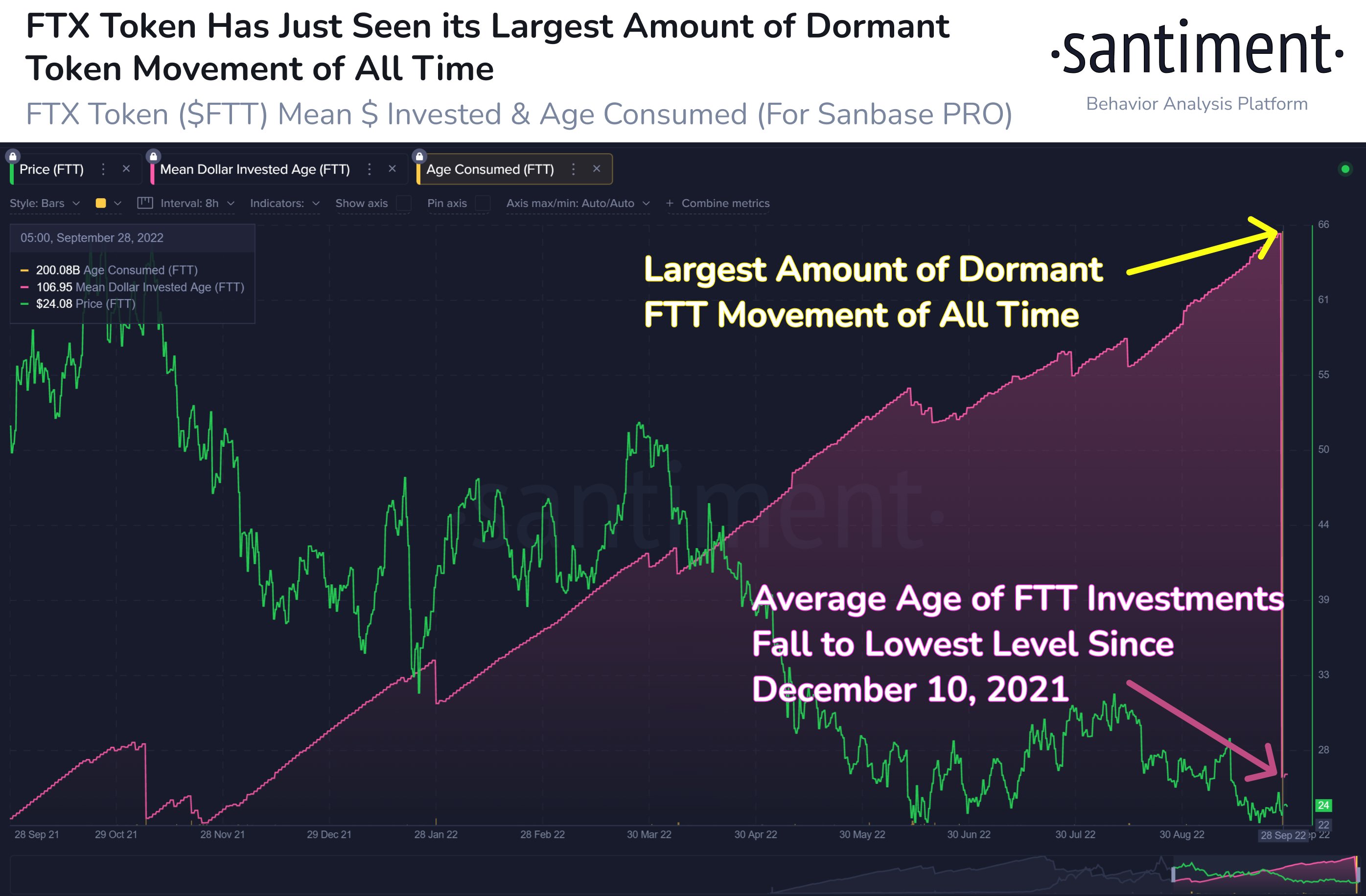 Other major cryptos traded sideways, with a slight red tint. ATOM and UNI were down about 4% and 3%, respectively. But XRP and XLM were recently up approximately 7% and 6%, respectively. XRP briefly eclipsed $0.5 in its recent relief rally following hints of the conclusion of Ripple's legal tussle with the U.S. SEC. XRP's recently-engineered comeback follows an extended period of underperformance from the asset. The Ripple community would hope for a recovery from past losses if Ripple triumphs over the US SEC.
The overall cryptocurrency market cap stands at $943 trillion, and Bitcoin's dominance rate is 39.6%.
Read more:
Join us on Telegram
Follow us on Facebook