Bitcoin price was recently trading at about $19,500, up about 0.3% over the past 24 hours in choppy trading. At the time of writing, BTC is changing hands at $19,410.
BTC/USD 4-hour chart | Source: TradingView
Bitcoin Price Holds Strong Above $19.5K as Investors Chew Over Latest Price Data
Prices jumped sharply during the 14:00 UTC (10:00 a.m. ET) time frame and even cracked the $20,000 threshold shortly after a speech on global financial stability by U.S. Federal Reserve Vice Chair Lael Brainard. BTC then retreated to a range between $19,500 and $20,000 in the subsequent hours but experienced a sudden sell-off right before the U.S. equity market close.
"Bitcoin's trading volume has steadily risen since mid-June, while other top cap assets are declining. Trader interests are beginning to return to relative safe haven assets like $BTC, while the rest of the markets have less trading interest", Santiment reported.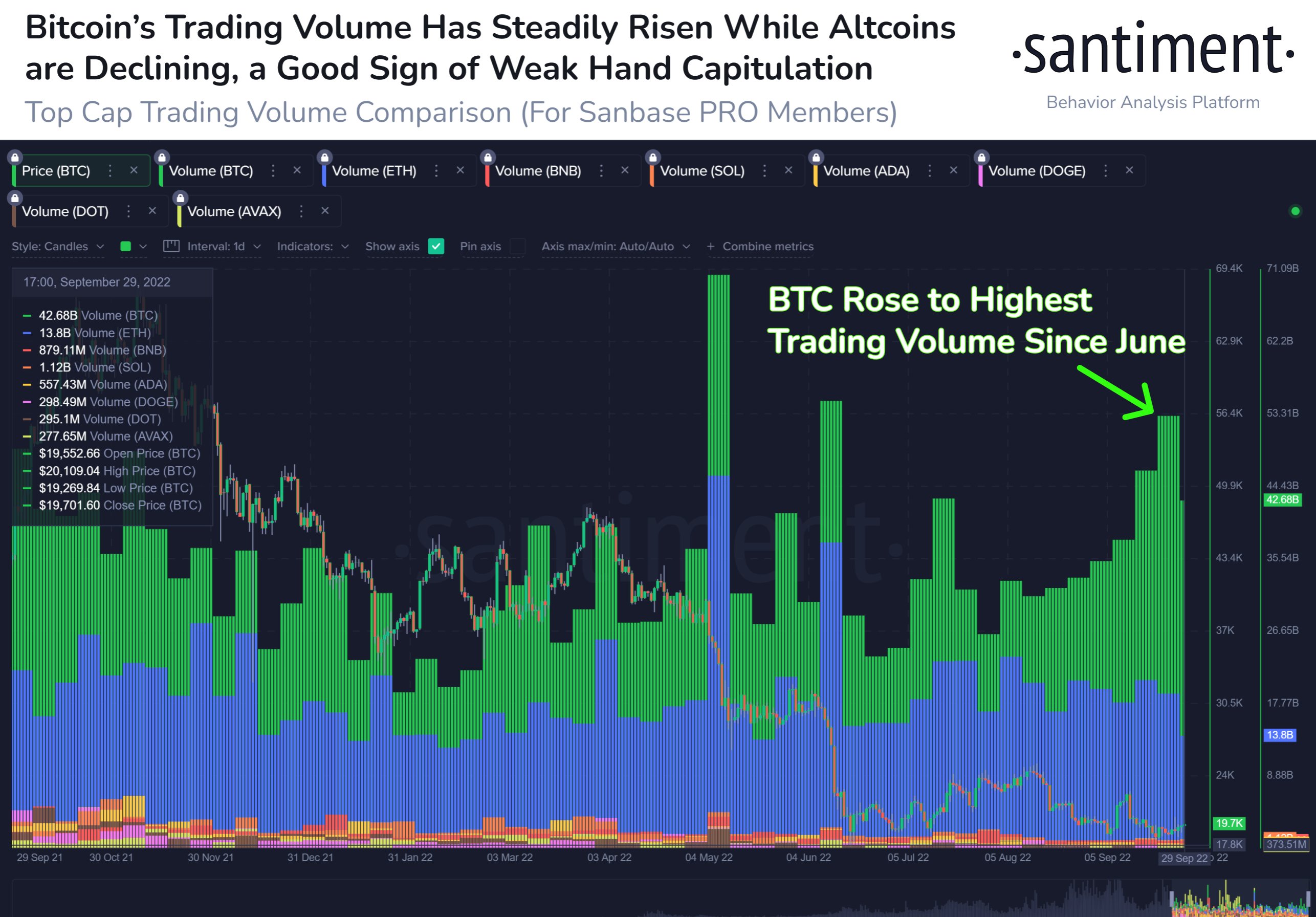 Ether price recently rose to about $1,340, a 0.4% gain from the same time the previous day. The trading volume of the second-largest cryptocurrency by market capitalization was down 2.3%. Its return on investment (ROI) has fallen 13% in the past 30 days as equity markets wrapped up the third quarter.
Payments-focused cryptocurrency XRP climbed above its 200-day moving average while maker (MKR) hit a three-week high. A higher-than-expected figure for the core personal consumption expenditures index, the Federal Reserve's preferred measure of inflation, may inject volatility into markets
The overall cryptocurrency market cap stands at $941 trillion, and Bitcoin's dominance rate is 39.5%.
Read more:
Join us on Telegram
Follow us on Facebook