The Bitcoin price rose 2.7% on Monday on low trading volume, continuing its recent range-bound trajectory. The largest cryptocurrency by market capitalization was recently trading just north of $19,000 and 3% below the psychologically important $20,000 level. At the time of writing, BTC is changing hands at $19,549.
BTC/USD 4-hour chart | Source: TradingView
Bitcoin Price and Ether Kick Off Week in Positive Territory
Crypto investors who have appreciated bad economic news more than good in recent months were feeling chipper on Monday as the latest manufacturing indicators arrived cooler than expected.
Bitcoin was recently trading at over $19,550, up more than 2% over the past 24 hours, amid a surprising monthly decline in the Institute for Supply Management's manufacturing index, which measures factory activity. The drop didn't send asset prices soaring. Still, it offered faint hope that the economy was slowing meaningfully, inflation would soon be waning, and the U.S. central bank would be able to ratchet back its recent monetary hawkishness. Markets have been desperate for signs of improvement in the inflation battle that Federal Reserve officials see as key to long-range economic stability.
"Bitcoin continues to see its supply moving away from exchanges as traders show further signs of being content with their current holdings. With less than 9% of BTC on exchanges for the first time since 2018, it is a good bode of confidence for bulls", Santiment reported.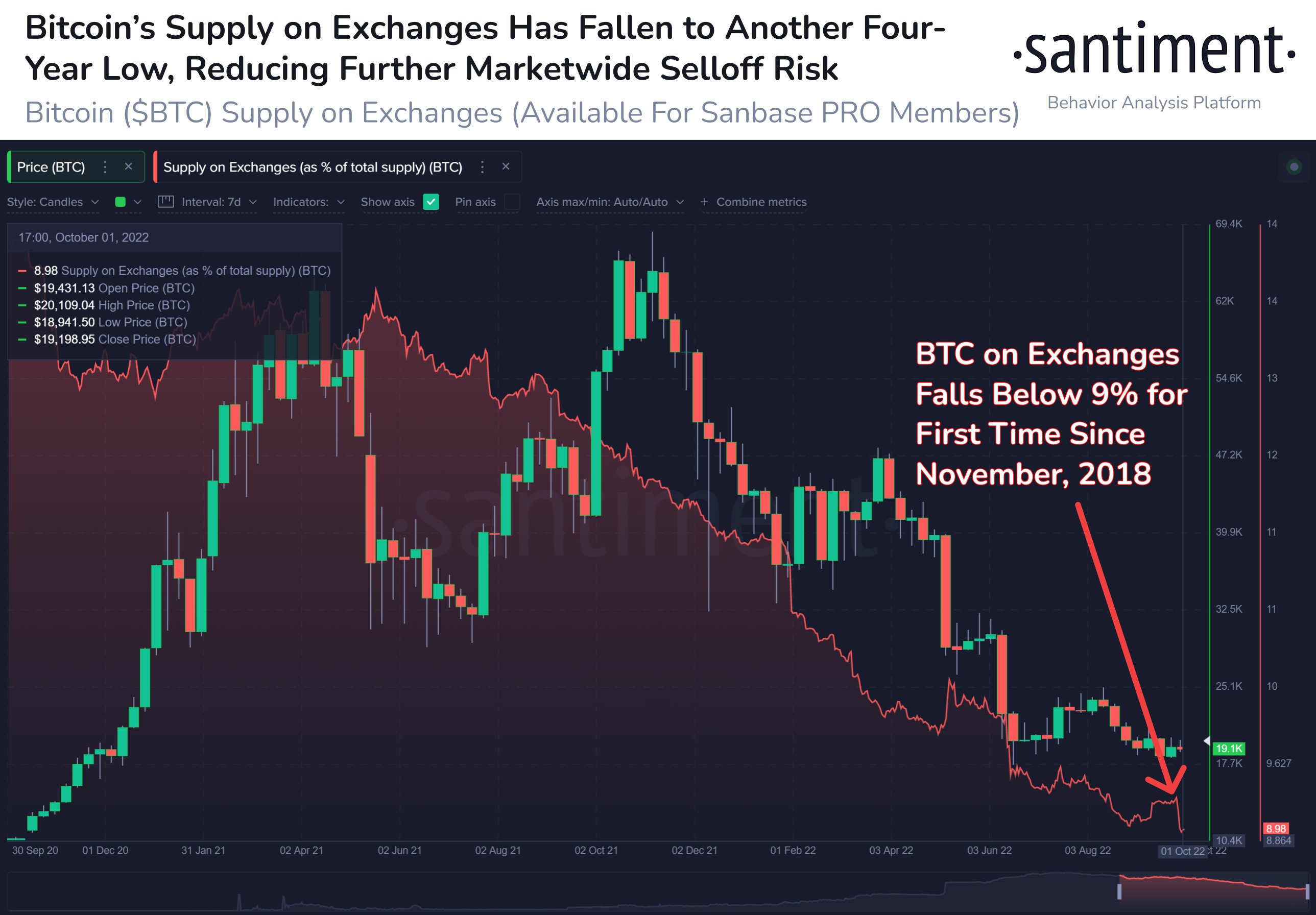 Ether was recently changing hands at just above $1,300, up roughly 3% from a day earlier at the same time. ETH  price increased 3.2% on Monday on low trading volume compared with its 20-day moving average for volume. Ether's recent trajectory has been flat, with prices moving an average of just 1.2% over the prior ten trading days. Since the Ethereum Network's transition from proof-of-work to the more energy-efficient proof-of-stake mechanism, ETH's price has declined by 20%. The supply of ETH has increased by 11,000 ETH since the transition but would have increased by more than 228,000 had the Merge not occurred.
Most other major altcoins in market value were trading higher, with ATOM and MATIC rising more than 5%. The overall cryptocurrency market cap stands at $940 trillion, and Bitcoin's dominance rate is 39.8%.
Read more:
Join us on Telegram
Follow us on Facebook