Bitcoin price was trading above $20,000 after struggling to break that resistance level for the past three weeks. At the time of writing, BTC is changing hands at $20,216.
BTC/USD 4-hour chart | Source: TradingView
Bitcoin price rises above $20,000, gaining with Ether and the rest of crypto top 10 as U.S. equities surge
Bitcoin price advanced 2.8% on Tuesday, building on Monday's 2.7% gain. The largest cryptocurrency by market capitalization got back above $20,000. Prices rose 0.57% during the 13:00 UTC (9 a.m. ET) hour when the U.S. stock market opens. Trading volume was double what was typical around then.
"Bitcoin whales show signs of sustained accumulation, a rarity in 2022. Since September 27th, addresses holding 100 to 10k BTC have collectively added 46,173 BTC back to their wallets as large USDT holdings have dropped", Santiment reported.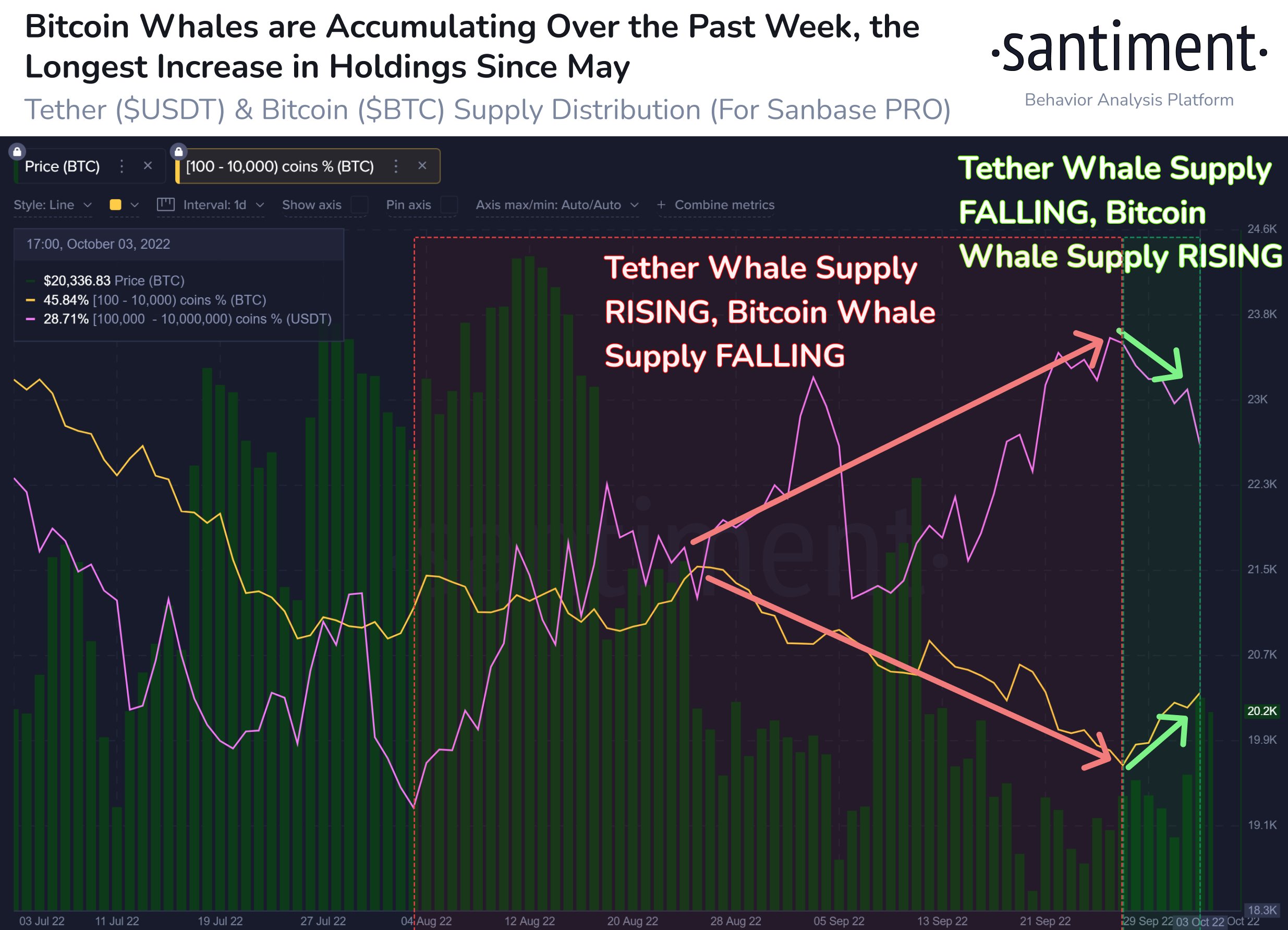 On Tuesday, markets responded positively to a surprising decline in job openings in the Job Openings and Labor Turnover Survey (JOLTS), which offered hope that the economy was slowing enough for the U.S. central bank to reverse course on steep interest rate hikes in the not-too-distant future.
The world's largest cryptocurrency rose along with Ether and the rest of the crypto top 10 by market capitalization, with Dogecoin posting the most significant gains.
Ether was recently changing hands above $1,350, up more than 5% from the previous day. Other major altcoins spent much of the day firmly in the green, with DOGE rising more than 10% after Elon Musk, a champion of the popular meme coin, indicated he would be willing to follow through on his original proposal to purchase social media platform Twitter. SHIB, a similarly dog-themed meme coin, and LINK climbed over 4% and 5%, respectively.
"Dogecoin is up a solid +9% in the past day and a half, and the #memecoin is still ranked as the 10th largest market cap asset in crypto. Whale transactions and funding rates have just spiked, which are two great predictors of price direction change", Santiment added.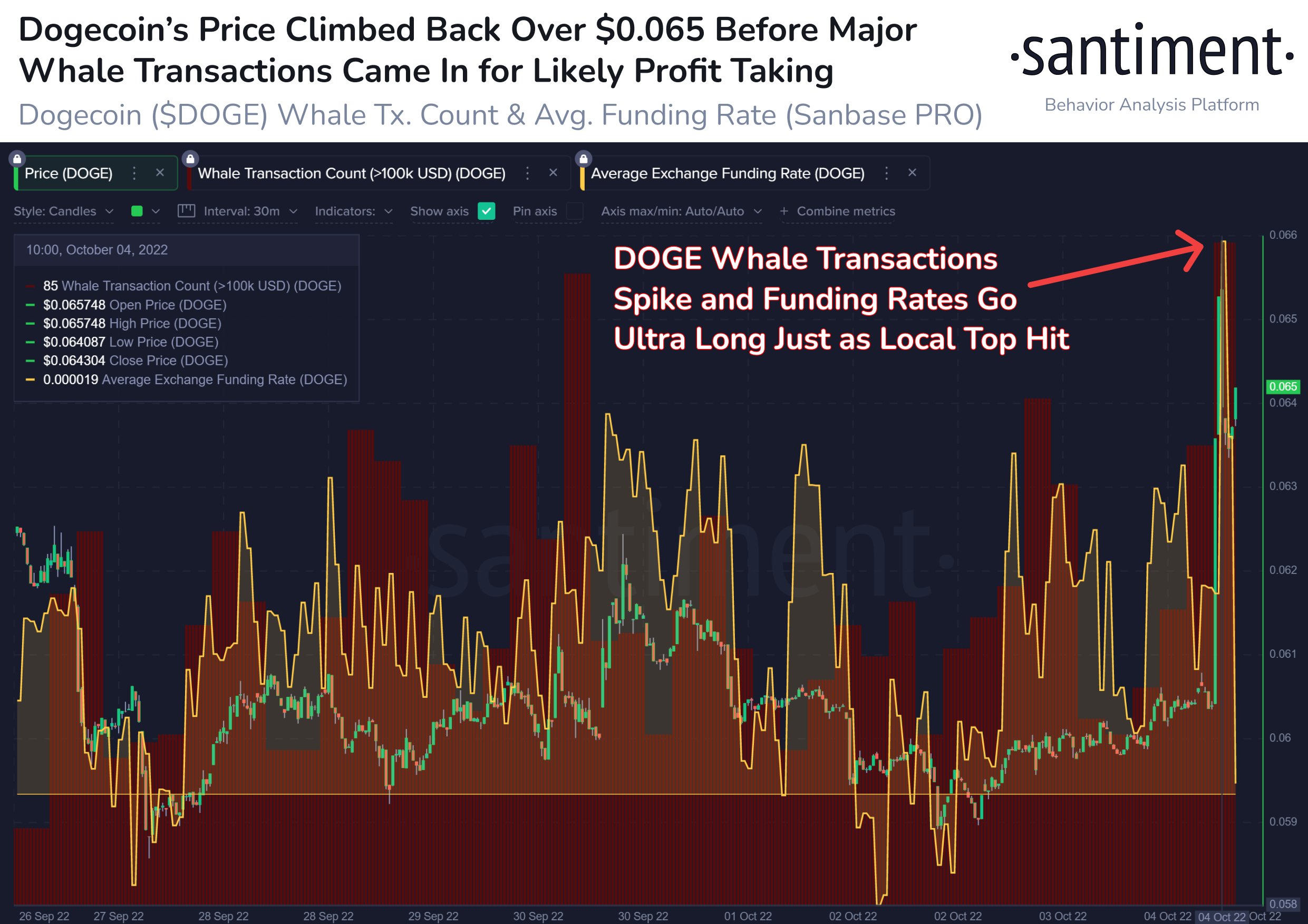 The latest employment figures released on Tuesday show the number of job openings in the U.S. fell by 1.1 million to 10.05 million in August, the biggest fall in nearly two and half years. Despite being bad news for job seekers, investors may have taken this as a signal the Federal Reserve's campaign of tackling inflation through rising interest rates is beginning to cool the economy.
According to the Labor Department's Job Openings and Labor Turnover Survey, there were 1.7 job openings for each unemployed person in August, down from 2 in July. However, this figure remains above its historical average. While this metric reflects the economy's strength, the Fed has indicated it plans to continue raising interest rates until inflation reaches a target range of 2%.
Read more:
Join us on Telegram
Follow us on Facebook