Bitcoin price continued its recent sedentary lifestyle on Monday, and the trend seems likely to continue until the next inflation report later this week. At the time of writing, BTC is changing hands at $19,043.
BTC/USD 4-hour chart | Source: TradingView
Bitcoin price trades flat ahead of the inflation report
Bitcoin price recently declined 1.07% on below-average volume, falling 0.55% at the onset of U.S. trading hours. BTC's daily volume has been below average in nine of the last ten trading days compared to its 20-day moving average. The lack of volume suggests a lack of bullish or bearish conviction.
The largest cryptocurrency by market capitalization spent much of the day trading sideways before a late dip took it down roughly 2% over the past 24 hours and recently trading at $19,050. BTC has held steady between $19,000 and $19,500 for the past four days as investors wait for convincing evidence that inflation is slowing meaningfully – or not.
Ether followed a similar path, declining 1.12%, also on below-average volume. ETH's trading volume has fallen below its 20-day moving average for 12 consecutive days. The second-largest cryptocurrency by market capitalization now sits just above $1,300 and is down 65% year to date.
Other major altcoins were solidly in the red after a late afternoon dip, with CHZ, ETC recently off more than 13% and 10%, respectively, and SUSHI and the popular meme coins DOGE and SHIB both down over 8%.
"There has been quite a lot of blood in the streets. Unless your portfolio mainly consists of BNB, XLM, QNT, MKR, HT, or other scarce positive altcoins over the past 30 days, you're down. This reflects in the shrinking group of individuals still interested in cryptocurrency", Santiment reported.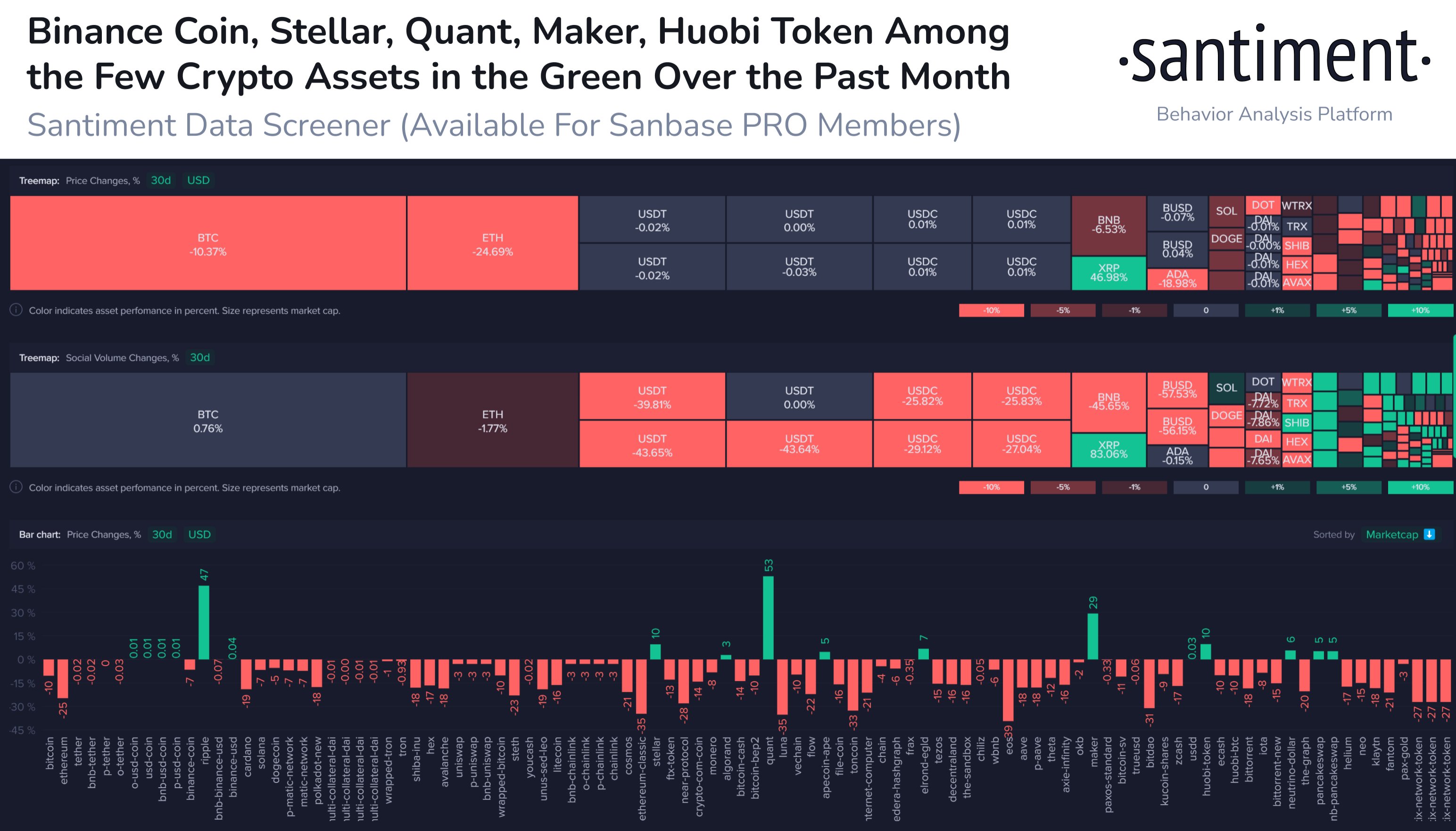 XRP saw the largest losses in CoinMarketCap's top ten, falling 6.9% to US$0.49. Despite this downturn, XRP is still trading up 7.3% for the past seven days following a series of positive developments for Ripple Labs Inc. — the firm whose payment network is powered by XRP — in its ongoing lawsuit with the U.S. Securities and Exchange Commission.
More than three-quarters of the 45 economists who compiled the NABE October 2022 Outlook Survey believe there is less than a 50% chance the U.S. economy will achieve a 'soft landing' due to the Federal Reserve's campaign to tackle inflation by raising interest rates. The National Association for Business Economics released the report on Monday, which also found that more than half the panelists said the Fed's greatest downside to the economy is too much monetary tightness.
The Fed is committed to its campaign of raising interest rates until inflation — which was running at 8.3% for the 12 months to August — falls to a target level of 2%. Fed Chair Jerome Powell has said this can be done while achieving a 'soft landing' for the economy — that is, not tipping it into recession.
Read more:
Join us on Telegram
Follow us on Facebook