Bitcoin trading volume continues to fall below its 20-day moving average, highlighting a decline in activity. The trend also indicates that markets will continue to trade in a range for the foreseeable future. BTC began hour testing at $19,150 before reverting to its current level. At the time of writing, the Bitcoin price is changing at $19,112.
BTC/USD 4-hour chart | Source: TradingView
Bitcoin Price Trades Higher Amid Muted Expectations for Next Inflation Reading
Bitcoin price is down 1.65% thus far in October, indicating the overall lack of volatility. Historically, October has been a strong month for BTC daily returns, averaging a 0.57% daily gain, dating to 2014.
"The percentage of discussions related to Bitcoin, among the top 100 assets, is at just 12.8%. This is the lowest week in 7 months. And for a 10th straight week, the crowd is bearish toward BTC. Both are historically favorable of price bottoms occurring", Santiment reported.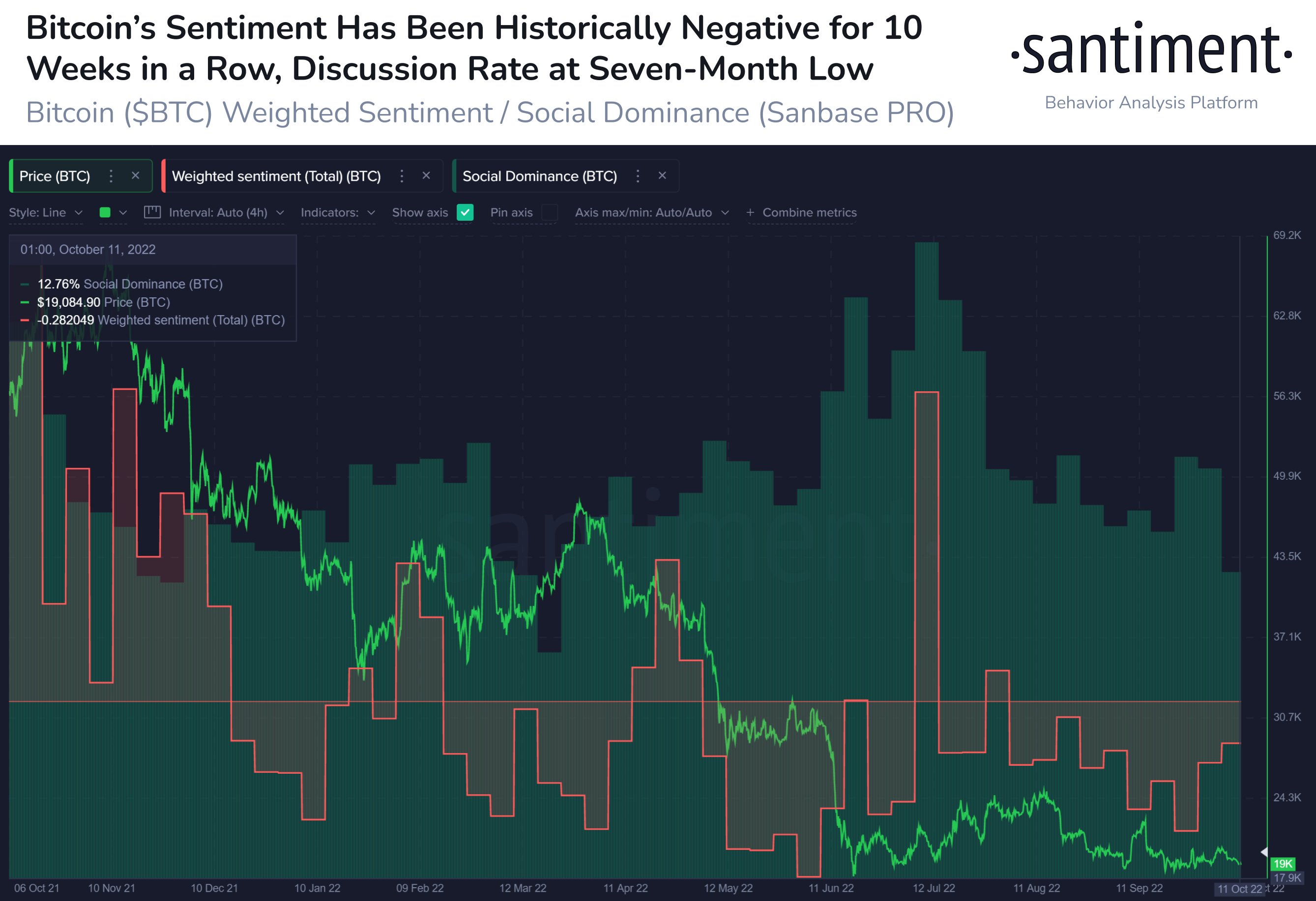 Ether recently changed hands at just below $1,300, a more than 1% gain. Volume again fell short of its 20-day average, marking the 12th consecutive day this occurred. ETH may find difficulty moving past current levels, as puts exceed calls by two to one at the $1,300 strike price.
"Though the long-term crowd sentiment has remained negative, swing trades in October have been dictated by how often bullish & bearish calls are happening. When social platforms show too much bearish sentiment, prices bounce. When bullish, prices drop", Santiment added.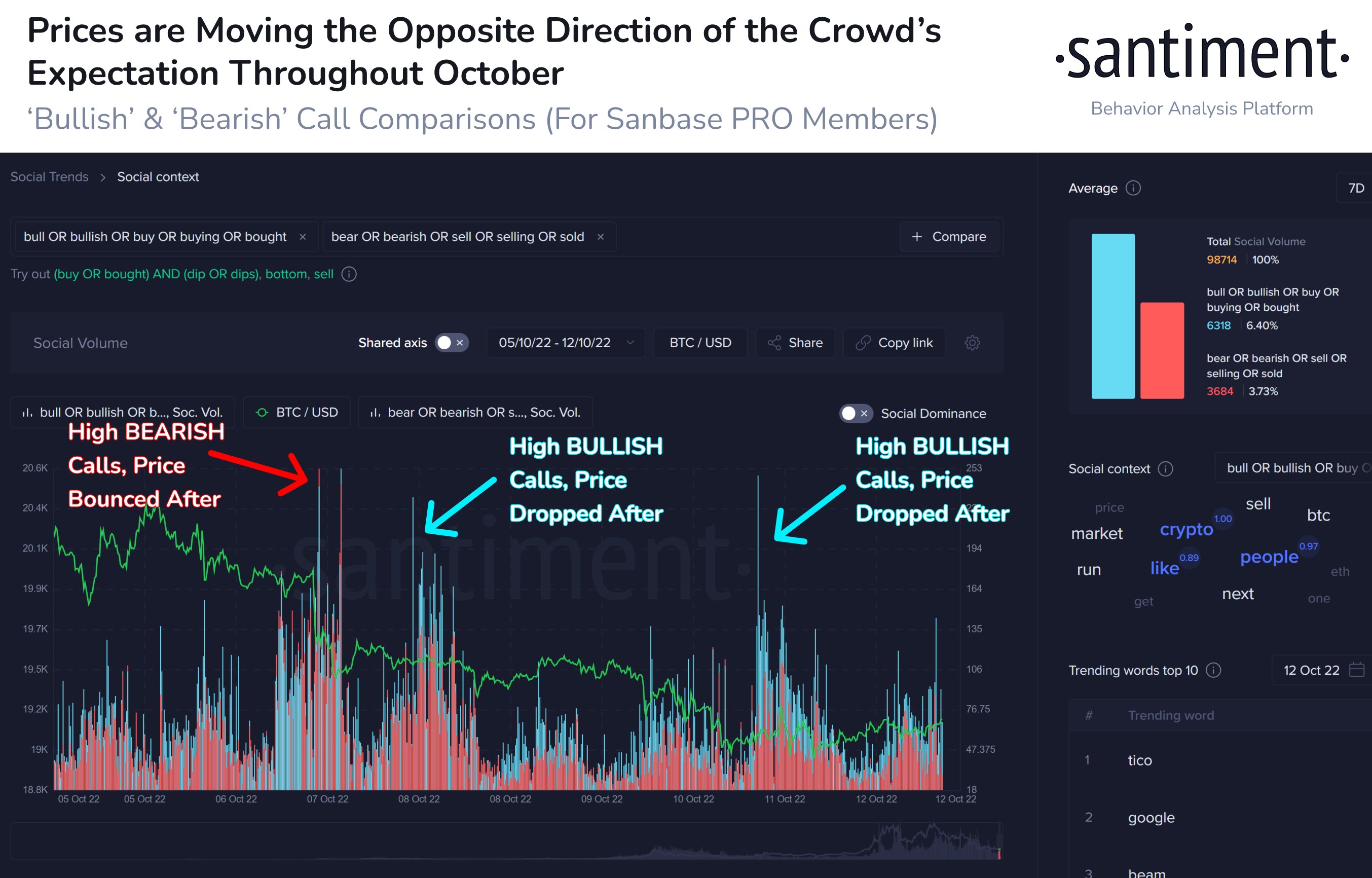 Other coins on the top 10 moving higher included Solana, XRP, and Tron. Cardano fell. The Caribbean island's government may accept native Tron tokens, such as TRX and USDT, for public payments, including taxes, under a new ordinance. Tron gained 0.2% to trade at $0.06, Solana rose 1.3% to $31.16, and XRP was up 0.6% to $0.48. Cardano saw the heaviest losses, trading down 2.5% to change hands at $0.38.
BNB was little changed, dropping 0.2% to trade at $270.96. This comes after the BNB Smart Chain (BSC) successfully underwent a hard fork. The network was forked to address a software weakness that led to a $100 million hack on Oct. 6. The blockchain that hosts the BNB token is operated by Binance Global Inc., the world's largest cryptocurrency exchange.
These losses come amid the release of the minutes from the Federal Open Markets Committee's (FOMC) September meeting, where officials expressed surprise at the consistent level of inflation and expected interest rates to remain elevated until inflation starts to subside. The Fed raised interest rates by 75 basis points in that meeting to bring them to 3%. Investors now await the release of the Consumer Price Index on Thursday, which will show inflation levels for September. The most recent CPI data showed inflation was running at 8.3% for the 12 months to August. The Fed aims to bring inflation to a target rate of 2%.
Read more:
Join us on Telegram
Follow us on Facebook