Bitcoin and Ether were trading higher along with the top 10 tokens by market capitalization, excluding stablecoins, as the world's largest cryptocurrency remained above $19,000. At the time of writing, Bitcoin price is changing hands at $19,213.
BTC/USD 4-hour chart | Source: TradingView
Bitcoin price rises as Ether leads gains in crypto top 10
Bitcoin and other major cryptos rose slightly on Sunday but remained about where they were at the start of the weekend. Bitcoin continued its recent residency above $19,000 in another quiet trading weekend as investors weighed the same issues dominating their thoughts for months: inflation and recession.
The largest cryptocurrency was recently trading at about $19,250, slightly up over the previous 24 hours and from where it stood at the start of the weekend. BTC has traded listlessly within a narrow $19,000 to $21,000 range it's held for much of the past month. Analysts see the trend continuing short of an unexpected catalyst in the weeks ahead.
Ether was recently changing hands just above $1,300, up more than 2% from a day earlier. The second largest crypto in market value has been tangoing with this level since mid-September, shortly after the Merge, the technological overhaul to shift the Ethereum blockchain into a more energy-efficient proof-of-stake protocol.
"Ethereum's shark & whale addresses (holding 100 to 1M ETH) have dropped 3.3M $ETH in the past five weeks. This equates to about $4.2B in dumped coins. The asset's price vs. Bitcoin has ebbed and flowed based on the behavior of these key stakeholders", Santiment reported.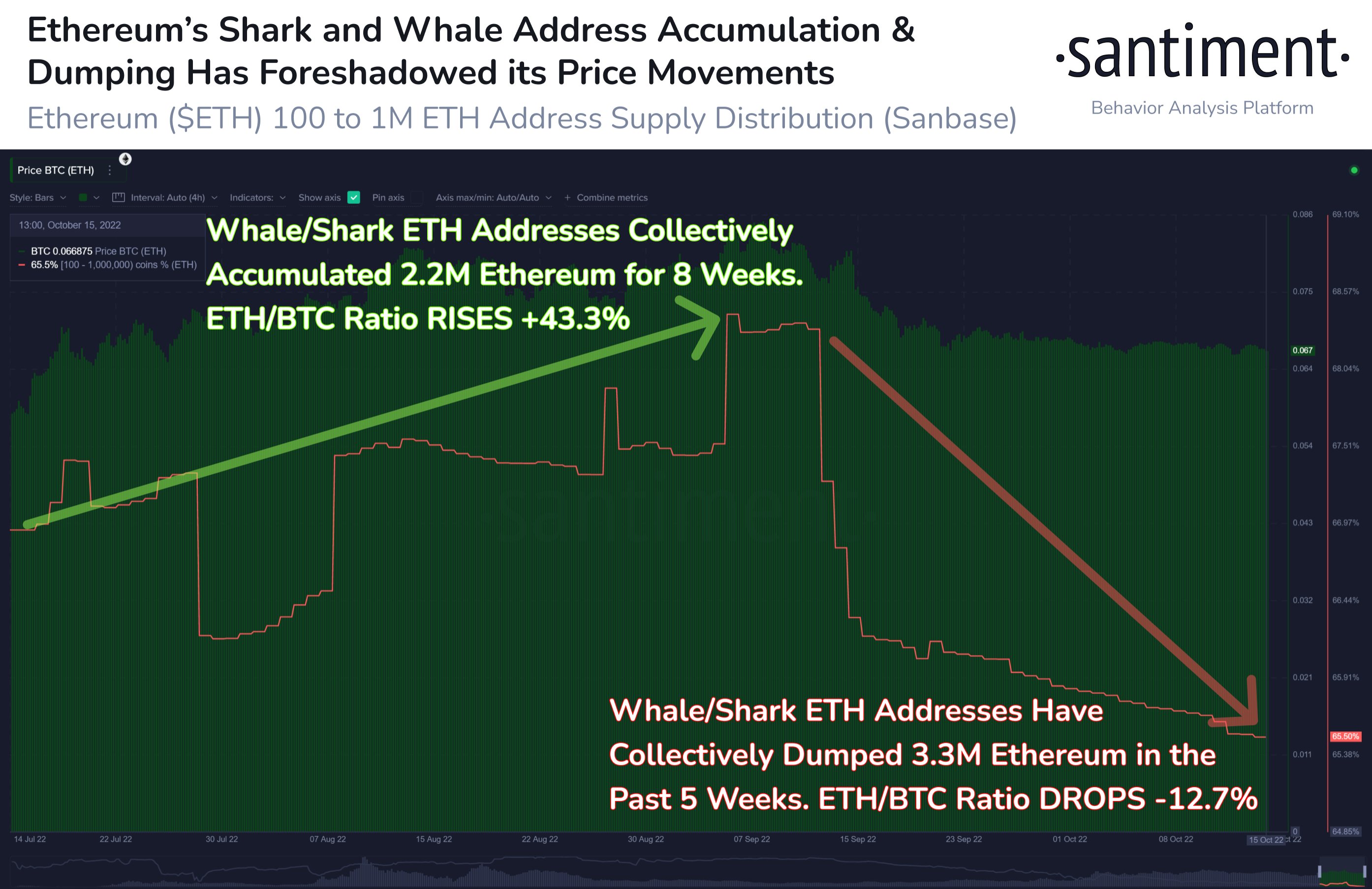 An expected 75 basis point interest rate increase at next month's Federal Open Market Committee (FOMC) meeting and continued U.S. central bank hawkishness through the end of the year seems already entrenched in investors' thinking as the U.S. central bank looks to staunch doggedly high inflation. The Federal Reserve hopes to reduce inflation to 2% from its current 8.2% reading.
Other major cryptos were recently trading mostly higher, with AAVE and ALPACA up about 5%. XRP was off by approximately 1.5%. Despite trading flat for the past day, Tron overtook the Shiba Inu token over the weekend to reenter the top 10 list, excluding stablecoins after being bumped from the position last Friday. It was changing hands at $0.06. XRP was the only token that fell, dropping 0.9% to $0.47.
Equities pulled back from Thursday's gains following the data release showing that U.S. inflation had slowed slightly in September to 8.2%, down from August's 8.3%. Still, they remained elevated and above market expectations, given the Federal Reserve's ongoing campaign to tackle inflation by raising interest rates.
Elevated interest rates are "hurting the situation," former presidential hopeful and U.S. senator Bernie Sanders said on Meet the Press on Sunday, blaming higher inflation on macroeconomic trends and record company profits. He said he would not raise rates any higher. Interest rates in the U.S. are currently set to 3% to 3.25%.
Read more:
Join us on Telegram
Follow us on Facebook