Over the last few months, Bitcoin has been trading at suppressed levels. At $16k, the largest crypto is trading below its December 2017 peak. In fact, as illustrated below, the current level at which BTC is priced is at par with November 2020's levels.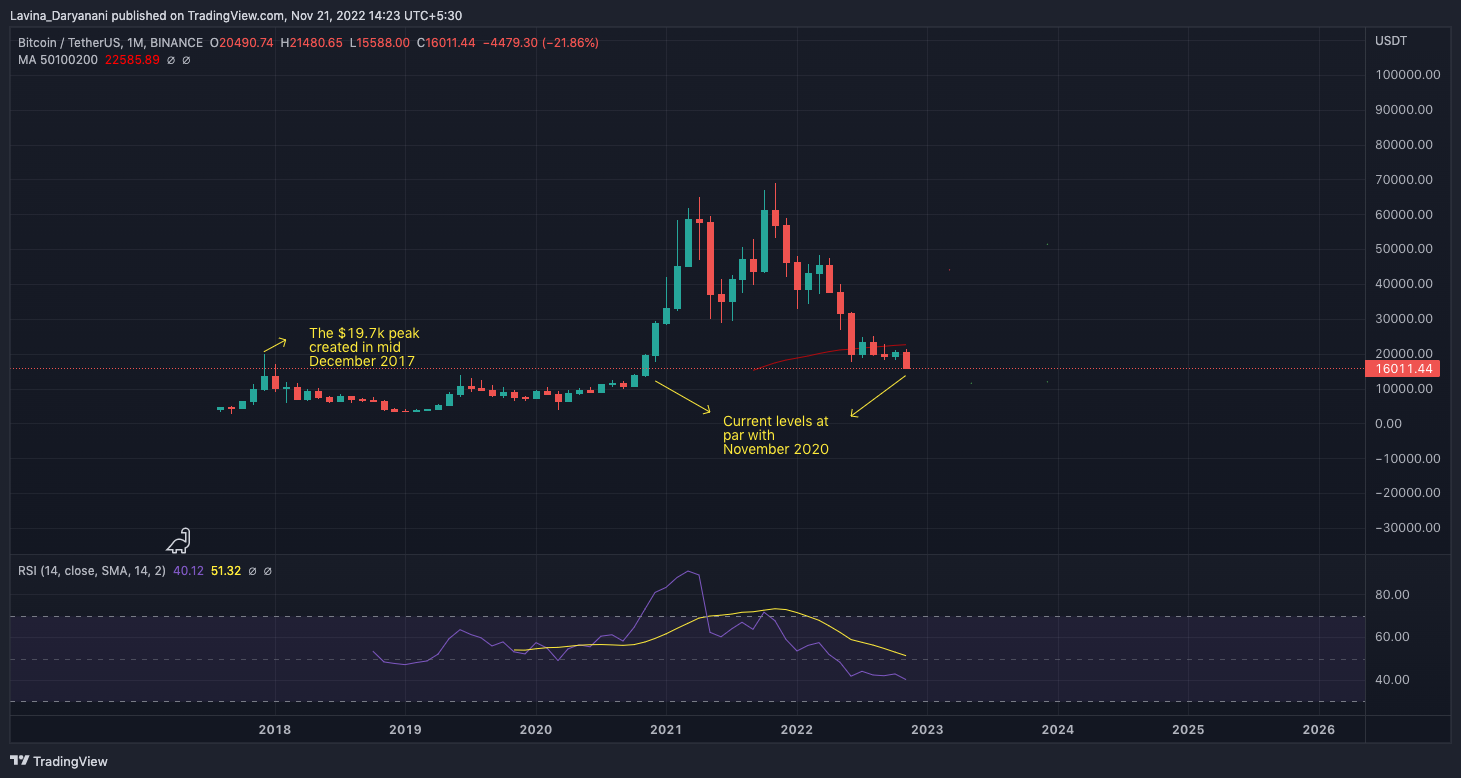 Given the sustained downtrend, the market is currently characterized by extreme fear. In fact, for the first time since March 2020, more than half [around 52%] of Bitcoin HODLers are underwater at the moment.
Nevertheless, on-chain analyst Will Clemente highlighted the state of a few crucial metrics on Twitter to explain that "Bitcoin is fine."
Despite being underwater, the total supply held by long-term HODLers currently stands at an all-time high. By and large, that indicates conviction. Opining on how this set of market participants is strengthening their commitment, Clemente said,
"Long-term holders are doubling-down."
Alongside, other fundamentals continue to remain strong for Bitcoin. The block height metric has been consistently moving upward, indicating that new blocks are steadily being added to the blockchain as time passes.
Furthermore, the active addresses have also been making higher lows. In fact, this metric just created a new 6-month peak today. Typically, an address is considered to be active when it becomes a direct participant in a successful transaction and the current trend seems to be encouraging, for it hints towards refining participation by traders/investors.
End of Year Bitcoin prediction per S2F
Per the Stock-to-Flow model's prediction, the price of Bitcoin will be $78,280 by the end of this year. S2F, as such, considers Bitcoin's scarcity to forecast its value. Even though this metric has been reliable in the past, it has not always been accurate. Last year, for instance, this model predicted a year-end price above $100k for Bitcoin.
As illustrated below, the current deviation of the actual price to the predicted price is the most in history, and thus, the forecast should be taken with a grain of salt. Nevertheless, one thing seems to be clear at this stage—the network is hale and healthy and it is not yet game over for Bitcoin.
Read More: Is it 'game over' for Bitcoin?