Bitcoin price awakened from an early-week slumber to rest snugly above its previous $16,000 support. The largest cryptocurrency by market capitalization was recently trading about $16,200, up 2.5% as crypto markets returned to tracking stocks, which rose on renewed hopes that the U.S. central bank's hawkish monetary policy was taming inflation and that it would soon be able to retrench from its recent diet of 75 basis point interest rate hikes.
BTC/USD 4-hour chart | Source: TradingView
Bitcoin price, crypto rise as FTX contagion fears ease
Bitcoin is back above the $16,000 level but remains in danger as everyone waits for the next crypto domino to fall. Crypto traders are already pricing in bankruptcy for crypto lender Genesis. Contagion for FTX will impact many, but it seems a fresh catalyst is needed for sellers to take control.
Several altcoins also had a strong performance, such as Ether (ETH) followed a similar trajectory as BTC and was up roughly 2.6% to $1,120. Solana's SOL token was up 3% to nearly $12. CRV, the governance token of the decentralized exchange Curve, was the top performer of the day.
"There are not a lot of big Solana believers, even as its price bottomed out at $11.02 and rebounded to $12.70 over the past 15 hours. This FUD could cause more rebounding until traders slow down their nearly unanimous bets against SOL's price", Santiment reported.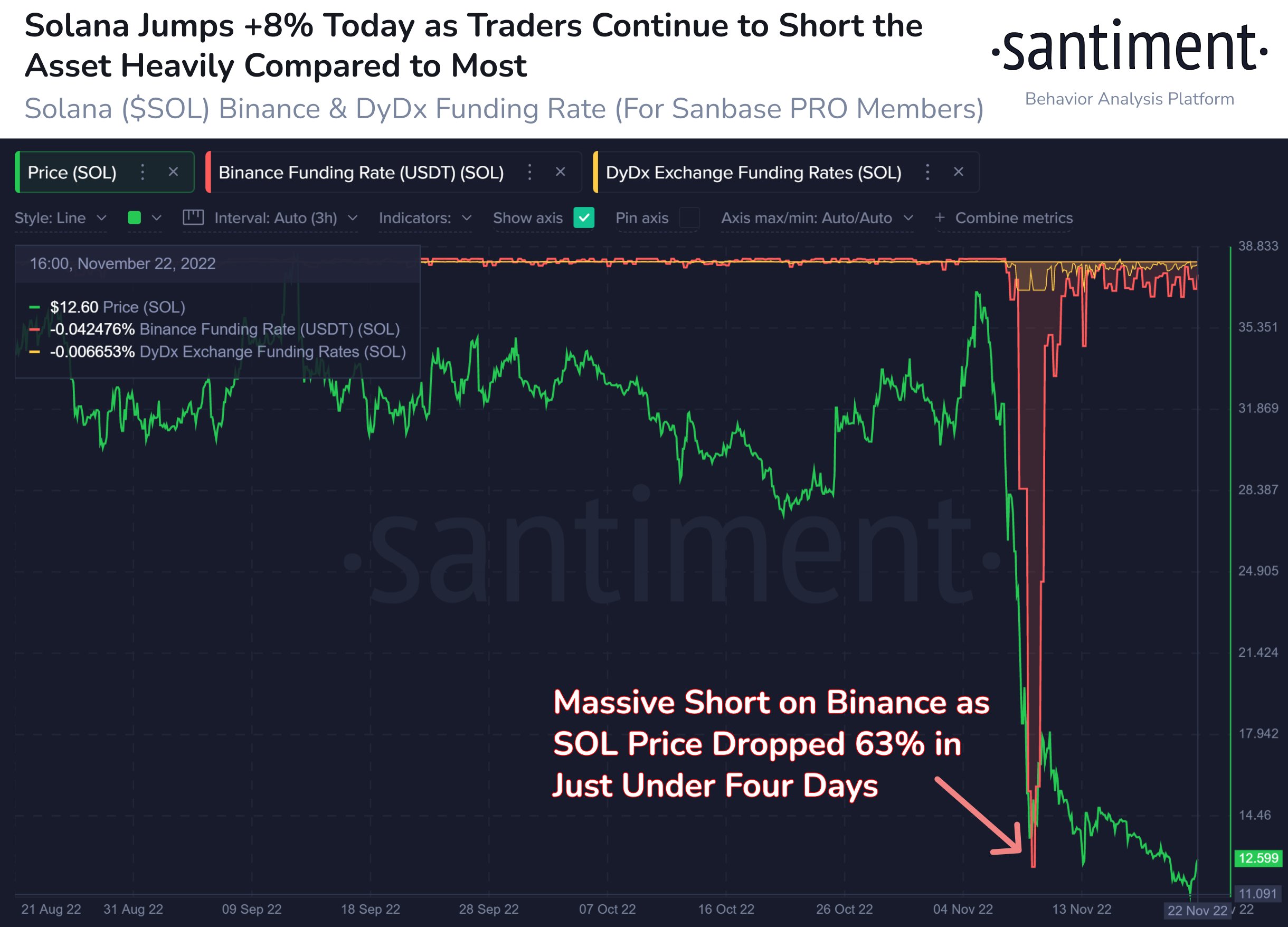 Litecoin posted the largest gains in that list, rising 13.7% to $70.09, representing a 20.76% rise in the past seven days as it rose several positions on CoinMarketCap's list. Despite the broader market downturn, the blockchain reached its all-time-high mining difficulty on Nov. 18.
U.S. investors eagerly await the release of the Federal Reserve's November meeting minutes on Wednesday for insights into how the Fed views current economic conditions and plans for likely further interest rate rises as it continues to combat near-40-year-high inflation. The Fed has been raising interest rates since March this year to slow inflation from near zero to a 15-year high of 3.75% to 4%. The Fed has signaled that it will continue to raise rates until inflation reaches a target range of 2%.
Read more:
Join us on Telegram
Follow us on Facebook