Bitcoin price cracked the $17,000 threshold for the first time since early November. The largest cryptocurrency by market capitalization was recently trading at about $17,136, up 3.6% over the past 24 hours.
BTC/USD 4-hour chart | Source: TradingView
Bitcoin price, crypto, rise after Fed Chair Powell hints at easing rate hikes
Because of the collapse of the largest cryptocurrency exchange, FTX, and the accompanying aftermath, bitcoin lost more than 18% of its value for the month, and ether lost 21%. A little more than a week after CoinDesk revealed abnormalities on the balance sheet of its trading subsidiary Alameda Capital, FTX filed for Chapter 11 bankruptcy protection, forcing other businesses that had exposure to it into survival mode. A few coins, such as BAND and LTC, which increased by 57% and 38%, respectively, rose above the chaos.
The top 10 non-stablecoin cryptocurrencies and traditional equity markets all saw gains in Thursday morning trading in Asia, including Bitcoin and Ether, as a result of comments made on Wednesday by U.S. Federal Reserve Chair Jerome Powell that the central bank may start to scale back interest rate hikes.
Leading meme coin Dogecoin increased 4.9% to trade at $0.106, while Polygon's Matic increased 11.4% to $0.93. BNB increased 1.7% to close at $300.67. A total of $863 billion was the market capitalization of all cryptocurrencies, down 15.6% from $1.023 trillion on Nov. 9—the day before the FTX.com exchange declared bankruptcy. On the last day, the total value of cryptocurrency transactions increased by 18.6% to $51.56 billion.
The second-largest cryptocurrency by market value, Ether (ETH), was trading slightly around $1,300, up 6.6% from Tuesday at the same time. Other cryptocurrencies were mainly heading upward, with DOGE, a well-known meme coin, climbing over 3%, and UNI, the token of the smart contracts-based Uniswap platform, rising over 6%.
To curb inflation, the Fed has been raising interest rates since March. They have gone from almost zero to a 15-year high of 3.75% to 4%, and the Fed has hinted that rates may eventually reach 5%. The Fed has said it will keep raising interest rates until inflation is within its 2% target range. According to the consumer price index, inflation was 7.7% in October, down from 8.2% in September. The Fed is anticipated to increase interest rates by 50 basis points during its meeting on December 13–14.
"Jerome Powell made a rare encouraging 2022 announcement for markets today. With interest rate hikes potentially slowing, crypto & equities immediately responded by surging. We may see strong bullish support leading up to the Dec 13-14 FOMC meetings", Santiment reported.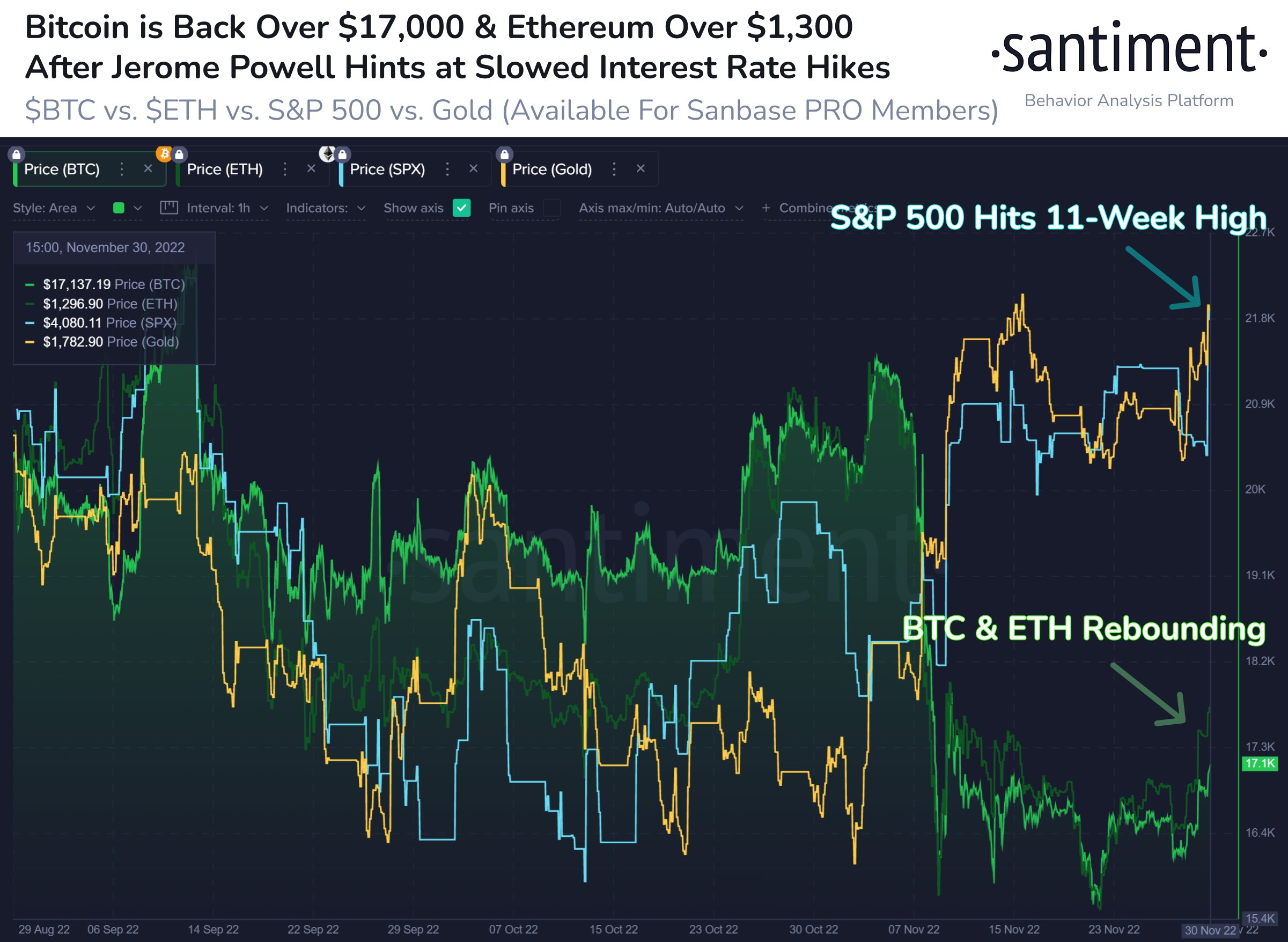 The Fed may reduce the rate increases it makes, but this is unlikely to immediately impact the economy. Corporate executives have sounded the alarm about the potential, including Elon Musk, the CEO of Tesla.
The overall cryptocurrency market cap stands at $860 trillion, and Bitcoin's dominance rate is 38.2%.
Read more:
Join us on Telegram
Follow us on Facebook